Chancellor Angela Merkel has said Germany has an unending responsibility to remember the Nazis' war crimes, as she made her first trip while in office to the Auschwitz death camp in Poland.
The responsibility was "part of our national identity", she said.
Her visit comes amid a rise in German anti-Semitism and ahead of the 75th anniversary of the camp's liberation.
The Nazi regime murdered an estimated 1.1 million people, the vast majority of them Jewish, at Auschwitz-Birkenau.
What did the chancellor say?
Mrs Merkel was accompanied on her visit by Polish Prime Minister Mateusz Morawiecki and a death camp survivor, 87-year-old Bogdan Stanislaw Bartnikowski.
She walked through the notorious "Arbeit macht frei" (work sets you free) gates at Auschwitz and then held a minute's silence at the so-called Black Wall, where thousands of prisoners were executed
She then moved to the Birkenau site where she gave her speech.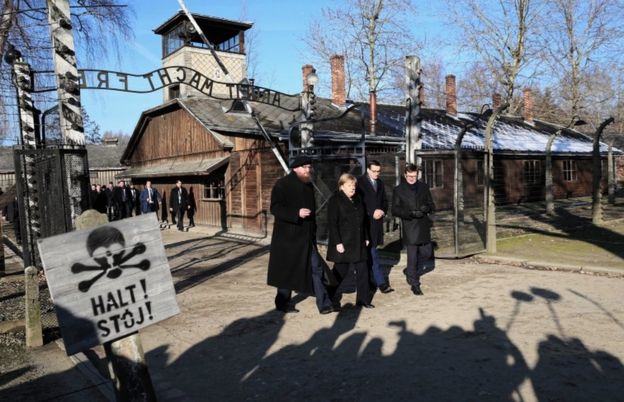 "Remembering the crimes… is a responsibility which never ends. It belongs inseparably to our country," Mrs Merkel said.
"To be aware of this responsibility is part of our national identity, our self-understanding as an enlightened and free society… a democracy."
Germany continued to have "deep shame" for what happened in Auschwitz-Birkenau.
"There are no words to express our sorrow," Mrs Merkel said.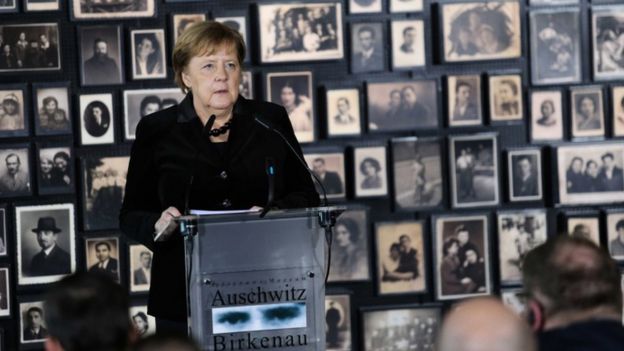 "I bow my head before the victims of the Shoah," she told the gathered Holocaust survivors.
Mrs Merkel also acknowledged the rise of anti-Semitism in her country, saying to combat it "the history of extermination camps has to be shared".
Mrs Merkel was also accompanied by the president of Germany's Central Council of Jews, Josef Schuster, and the head of the Central Council of German Sinti and Roma, Romani Rose.
Why is Merkel visiting now?
Major events are planned for the 75th anniversary of the liberation of Auschwitz by Soviet troops on 27 January.
But Mrs Merkel has chosen to go to the site now, and to attend the 10th anniversary of the Auschwitz-Birkenau Foundation, a group that tries to preserve the camp as a memorial and a warning for future generations.
As part of her visit, Germany's federal states announced a €60m (£51m; $66m) gift to the foundation.
Though she has been to other camps, including Dachau and Buchenwald in Germany, this is the chancellor's first visit to the most notorious Nazi death camp, located west of the Polish city of Krakow.