The violent death of George Floyd, a 46-year-old African American father living in Minnesota, USA, at the hands of a white policeman – who kneeled on his neck for nearly nine minutes as the life left his body – has lit a spark of protest across the world.
Amidst the pandemic, individuals have been sporting face masks and gathering to de-cry the systemic racism which led to the untimely death of Floyd, as well as of police brutality against Black communities.
This crime followed the high profile killings of Breonna Taylor and Tony McDade at the hands of the state, as well as of Ahmaud Arbery, who was killed by a white father and son while out jogging.
Demonstrations have happened and are planned across the UK, including at Parliament Square at 1pm on Saturday 6th June, and at the US embassy at 2pm, on Sunday 7th. Important note: a statement released via the official Black Lives Matter UK Twitter account has stated that this group are 'not calling for protests,' but will 'support people to protest in a way that is safe for them as well as for our communities.' (The protests are being organised under the #BLMLDN.)
Evidence from the Office of National Statistics suggests that Black people in England and Wales are four times as likely to die from COVID-19 than white people, making this concern a heavy one.
Right now, gathering en masse contravenes the rules of the novel coronavirus-necessitated lockdown. Of course, meeting in a crowd exposes yourself and others to the risk of contracting the virus. However, for some who are not isolating, this moment requires some hard decisions about navigating risk, while standing with communities demanding change around the world.
It's also vital to know that arrests have been made in earlier solidarity demonstrations in London. If you do attend a protest, read up on what to do in the event that you are taken into custody ahead of time (Black Lives Matter UK have shared expert advice from legal pros, via Twitter.)

Some arrests were made earlier at one of the #BLMLDN protests.
Here is some legal information put together by @GBCLegal
Read up and stay safe family.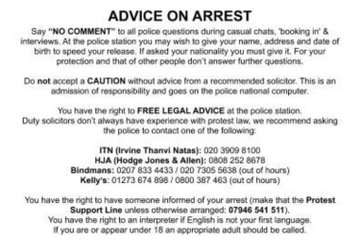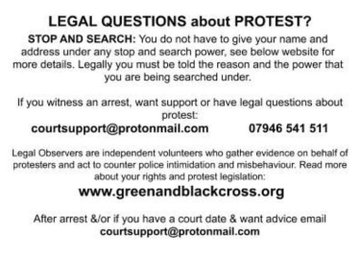 41220:56 – 31 May 2020Twitter Ads information and privacy400 people are talking about this

You also need to know about staying as safe as possible, as well as protecting those around you. To that end, NHS GP Dr Adwoa Danso (@theclinicdiaries), shares a list of advice.